Core 102

History and the Modern World
Challenges of Democracy

Roger Williams University  GHH 108

Section 02 LLC T, TH   12:30 PM-1:50 PM

Spring Semester, 2017

Michael R. H. Swanson, Ph. D.

Office: GHH 215

Hours:  M, 12:00-1:00

T, Th,  9:30 - 10:20  Or By Appointment

Phone:  ext 3230


For Tuesday, February 21



HAPPY GEORGE WASHINGTON'S
REAL
BIRTHDAY Eve
Download
,
Annotate
according to the Prompt below,
the document(s) from Core Canon, and then upload into your Drop Box
...

If you haven't finished your annotations on Aristotle, Government by the Middle Class, from the prompt for last week, do so before class today.I expect we'll take most of the period discussing the document.  Especially if we watch some of the videos posted for last Thursday.

I'm guessing that because we spent the whole period discussing elements of the Melian Dialogues last Tuesday we may not get through the discussion of Aristotle on Thursday,  the day I post the syllabus for next week.  Before this class, I would ask you to take the poll I've Added to Bridges.  Answers are anonymous.

Download
,
Annotate
according to the Prompt below,
the document(s) from Core Canon, and then upload into your Drop Box
...

Regarding Cicero:
  You are not going to find this easy reading.  Remember you can highlight a word you don't understand and look it up on Google.  Take, for example, "
excogitated
".
Cicero wrote every part of this document, though three people seem to "take part".  This is a deliberate strategy on Cicero's part.  What are the functions of (a) Atticus, and (b) Quintus.  (Marcus is Cicero himself).

In the second paragraph, Cicero gives a definition of what the law is.  The language is a little old fashioned, you'll have to read it twice to understand it. 

In paragraph three, he uses the term "self–evident".  Is there an advantage to this term?  Have you seen it before?  Think about it, and we'll come back to it later.  (Hint:  the person who used it had the initials T. J.)

Cicero compares the Law to the "Law of nature", following which Atticus makes a joke.  Is humor a useful tool?  What do you think?

Around line 80...(p.3) Cicero describes the attributes of human beings...There are seven of them.  Number them, and indicate which one Cicero considers most important.  Would you agree?  Why or why not?  Add a sticky note comment about this.

He defines "right reason" as the equivalent of "Law".  What does he mean by right reason, and why is that going to be an important part of his argument?

Having gone from a consideration of human mental attributes he goes on to a short discussion of human physical attributes, such as our facial expressions and other things.  We'll be trying an experiment in class to see what he means.  I may ask for volunteers, or I may call on you at random.  I'll decide by Thursday.

On the following page he adds the idea of "equality".  How absolute is the concept, according to Cicero.  Romans held slaves.  Were they hypocrites for so doing?  What do you think. 

Do we have to always obey  our "right reason"?  IF not, what are some of the reasons we may disobey it?

Just before line 286, Cicero starts to discriminate between just and unjust laws.  What then is the source of "unjust laws"--which Cicero grants exist?

On the next page, there is a dialogue between Cicero and Quintus concerning what are obligations to "unjust laws" are.  Do you agree?  Explain your reasoning in a sticky note.  If you have questions about this you'd like to discuss in class, use a sticky note for them, as well. 

Finally, if our "right reason" tells us that a "law" is unjust, what should we do.  Use a text box or a sticky note to briefly record your feelings about this.

Regarding Polybius:

We won't be spending much time with this reading today.  We will want to come back to it once we get to more modern times.  One thing I would want you to consider.  Do you see any connections between the Roman Constitution which Polybius analyzes and the United States Constitution.  If so, just put a brief note concerning the connections you see in your dropbox.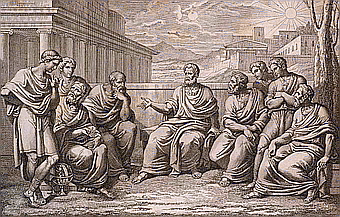 Cicero the Lawyer.  Click to see what is hidden behind.